Plan your schedule and join us for our FREE keynote sessions. Our Keynote Sessions will be a highlight of the event, featuring a State of the Industry Panel Address and two keynote speeches by successful business leaders and entrepreneurs in the crafting industry. These sessions will inspire and educate attendees on the latest trends and innovations in the field.
State of the Industry Panel Keynote |Wednesday, June 21

| Room 11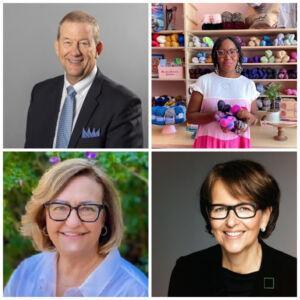 The State of the Industry Panel
What challenges and opportunities are craft businesses facing today? And what will tomorrow bring? In this panel discussion with industry leaders from the US and abroad, you'll hear about developing trends, forecasts, and future outlooks for craft businesses.
Come away with a global view of the crafts industry. We are all connected, from new businesses to established companies, from large corporations to independent makers, and this discussion will set the tone for what the show and the coming year will bring.
Moderated by Abby Glassenberg of Craft Industry Alliance; Panelists: Steve Jaffery of Brewer, Kamaca Champion of Miss Purl Chicago, Jan Hurwitz of Premier Needle Arts, and Hedi Ehlen – Managing Director, Initiative Handarbeit e.V.
Keynote |
Thursday, June 22
Keynote: Crafting a Brand That Lasts |

8:30 am – 9:30 am

| Room 11
Kathy Cano-Murillo, The Crafty Chica, launched her brand in 2001 and it continues to grow and thrive each year into new industries and generations. From designing calendars and stationery goods for Barnes & Noble to blogging and writing books about crafts to becoming part of the TikTok Creator program, she constantly sets and achieves goals. 
In this keynote, Kathy will share her roadmap of how she built her brand, and how she finds creative and impactful ways to evolve.
In this session, you will learn:
How to align your purpose with your brand.
How to shift your mindset to include a broad perspective on your career and life.
Tools and resources to help you evolve your business and brand.
How to find and develop your signature style and vibe.
How to build a community around your company.
Keynote |
Friday, June 23
Finding Confidence Through Crocheting – The Inspiring Business Journey of The Woobles |

8:30 am – 9:30 am

| Room 11
This inspirational fireside chat will feature commentary and key learnings from Justine Tiu, co-founder of The Woobles. She will shed light on her journey to find her self-confidence, including how she discovered hers in an unlikely place: while learning a new skill, crocheting. Justine will take attendees through the story of her personal journey as she built her brand, and helped hundreds of thousands of consumers find confidence through crocheting, too.