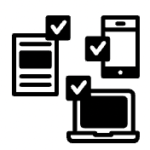 Trade fair, next level:
Your success with the Marketing Package
Promote your booth via our marketing package. All features are included in your exhibitor fees! Create a lasting impression by making your presence known before, during, and after our event. How? By using all available tools such as show directory, website, app as well as your digital presence at our event.
Online Networking
As you know "it's who you know". Take some time to connect with influencers, buyers and decision-makers via our online the h+h americas @home online platform or our trade fair app. Existing and new contacts can be added virtually to your profile. Take advantage of the appointment scheduling function and chat function to maintain valuable contacts.
Exhibit Directory Listing
Ensure that your listing reflects your company and product correctly (alphabetical, product, features and lines) – precision helps to attract those who are searching for products like yours!
Trade Mark Listing

"Perception is reality"! As you know branding can be a key in differentiating your business from your competitor. You want your company to stand out and be recognized as being different. To make sure of that take advantage and present your brands in our directories in the app, online exhibitor search and @home.
Free Customer Passes (codes)
One of the most important building blocks for your trade fair success is visitor quality! We will provide you with as many free ticket codes as you will require. Spread the word and reach out to invite all your contacts!
Free advertising materials
Share your upcoming presence at our show with your customers via online banners, e-mail signatures, individual social media graphics or personalized hall layouts and point to your booth location. Get everyone's attention to your participation in the trade fair and drive visitors to your booth!