As we head into the holiday season, we're starting to ponder 2023 and a new year for the industry. What's on the horizon for crafts? Where should you, as a craft business, focus your efforts? This is the perfect time to look ahead and gauge where we are, where we want to be, and where the industry may be heading.
To help us in our crafty prognostications, we've tapped some of the top creative leaders in the crafts industry. We'd like to thank Denzil Quick, VP Business Development at Spellbinders Paper Arts, an industry leader in paper crafting with die cutting machines, tools, and die designs; Mark Hyland, CEO at Handi Quilter, a worldwide leader in the machine quilting market; and Abby Glassenberg, Co-founder and President of Craft Industry Alliance, the premier community for craft professionals. Their thoughtful responses and invaluable analysis provide keen insight into the year ahead.
Where do you see the industry heading in the new year?
Denzil Quick, VP Business Development, Spellbinders:
Before I answer that question, I would like to preface my answer with some thoughts. One of the challenges the craft/creative industry faces moving forward is that it is very difficult to make trends or predictions without quality data conducted by an impartial 3rd party. When the industry was at its peak, publications and associations provided comprehensive "industry" data that allowed companies to have a macro perspective of what is going on and where they are positioned accordingly.
Today, nearly all the data we use is internal data to leverage our customers, our trends, our strategy, and our tactics as compared to ourselves. There is very little industry data to study or use to understand the greater craft marketplace. We have been successful over recent years and plan for that to continue, but our data and our measurements are based on a micro level and missing a macro perspective.
Without industry data to measure and referencing mostly anecdotal observations and assumptions, we think the creative industry is continuing to trend in a concerning direction. I think it's important to look at what we see going on with various sales categories and where we see them heading.
With COVID, we have seen the continued strong desire for people to be creative. They also want to have their creativity challenged and push their skill levels to learn new techniques and applications. Sellers who listen and provide these solutions and products with education will win the day.
The big box craft retailers continue to make business decisions to fit an antiquated business model. They don't take into accnt the truly fresh approach that customers have with successful small businesses, online retailers, or manufacturers selling direct. The big box retailers will most likely struggle as post-COVID consumer behavior evolves, because their environments do not reflect or embrace creativity, new product trends, or learning the way other resellers do. Larger online specialty retailers have really focused more on educating consumers, inspiring creativity, and providing product solutions for customers. This channel has really dialed in and is doing a terrific job, and we see no reason why they will not continue to inspire and grow their business.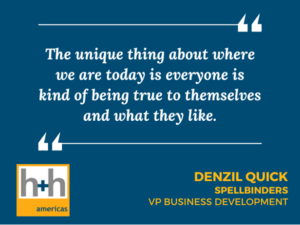 Traditional, small brick-and-mortar or mom and pop stores have fought hard and survived some difficult times. We have seen the best of the best of these retailers doing well and surviving. Unfortunately, many of these stores have limited staffing, capital, and resources.  However, they have great ideas and passion. The ones still standing have an opportunity to carve out their own successful future; we hope they all grow and are prosperous.
Lastly, manufacturers' direct sales B2C is more and more common and will continue to be. It allows companies to design, launch, and sell products based on their calendar and idea of what needs to be done to embrace consumers. Brands are finding the balance between selling directly and to these other channels. Each brand has their own niche and business model for success, which will determine the future landscape of the marketplace. Great design, quality products, and competitive pricing will always be the cornerstones of success and the direction the 2023 market will continue to move towards.
Mark Hyland, CEO, Handi Quilters:
We're confident the industry will experience continued steady growth (at GDP levels) as consumers continue to pursue craft-related interests. Consumer interest in crafting has only grown stronger during the last few years, and they remain highly active in general DIY trends, upcycling, and the tactical crafts/arts.
The pandemic forced many of us to forego in-person events. We continue to recognize that quilters really value in-person events like quilt shows and local events and conferences. The quilting community will always be interested in virtual events and opportunities to learn and craft online; however, as the world has re-opened I believe we'll see renewed and reinvigorated interest in live, in-person events. Our industry is tactile, and quilters will always seek out a hands-on experience with their craft, especially at the local level.
Abby Glassenberg, Co-founder and President, Craft Industry Alliance:
Consumers want to get out of the house and have new in-person experiences. They want to touch products, take in-person workshops, and see exhibitions. They also want to belong to like-minded communities. Crafts are well positioned to take advantage of all of these desires. I think it's our job to show how satisfying it can be to make things by hand, and how beautiful and lasting handmade items can be. And making together with friends old and new is a wonderful way to bond. These are the tenets we should focus on in the coming year.
What are some highlights exhibitors and retailers should focus on?
Denzil Quick, VP Business Development, Spellbinders:
We are blessed to be in this industry… and we should act like it! We are not designing and selling industrial cleaning products or things that people need to have. We're in the business of beautifying our world. We are making, designing, and selling beautiful products that customers want to buy so that they can express their own unique brand of creativity.
Focus on telling your story in an engaging, creative way. Most companies spend so much money, time, energy, and resources on designing products—and never make it exciting to buy. Additionally, focus more energy and time on education. Don't assume people know what your product does. Provide great examples and tutorials to show them the limitless opportunities for their own creative expression.
Also, realize that we are in a competitive industry, but relationships and partnerships are essential. Ours is NOT a "Zero-Sum game" where we are all taking a different slice of the same pie. If I get better, if our competitors get better, if the industry elevates itself, we grow creativity in the minds of all consumers and the pie gets bigger. We want big box to succeed, online retail to succeed, mom and pops MUST succeed; our competition needs to have success so we can be successful. The next show you attend, make 10 new friends, and see how that pays dividends for you in the years to come.
Mark Hyland, CEO, Handi Quilters:
Trends continue to suggest that it is all about the consumer experience—before, during, and after the sale.
Consumers are not looking just to buy. They want to be engaged with the brands. It's incredibly important and valuable to businesses to create experiential opportunities, both online and at the brick and mortar level. Creating unique experiences will drive consumer engagement and ultimately a more sticky consumer. We know that consumer relationships start before a transaction even occurs. Positioning your business as a trusted source through educational and social opportunities builds and fosters lasting relationships with your customers.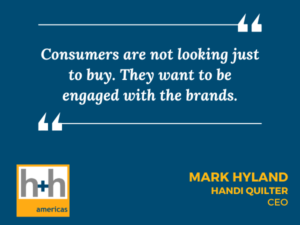 Abby Glassenberg, Co-founder and President, Craft Industry Alliance:
For me, one of the most exciting parts of h+h americas is the way it unites all craft sectors. To have a single show that brings everyone together to learn from one another and get inspired is truly fantastic.
I think for retailers, a smart tip for getting the most out of this show in particular is to keep an open mind. I'm seeing many independent craft retailers diversify their product assortment, including yarn shops branching out into quilt and garment fabrics and notions as well as beads, and quilt shops carrying cutting machines that can also be used to customize housewares. There are so many possibilities! Kits are a great way to bring in something new since they're all-inclusive crafting experiences. Training staff to gain expertise in new crafts can be an investment, but it's also exciting for consumers to have new reasons to come into your store.
What's new and trending for 2023?
Denzil Quick, VP Business Development, Spellbinders:
Gosh, dare I say "whatever goes" is trending?  When it comes to design, designers like Tim Holtz have led the eclectic, vintage style for years and it remains very popular. But we also have devoted adherents to the contemporary, sophisticated look like you might find with a Rifle Paper Co.
The unique thing about where we are today is everyone is kind of being true to themselves and what they like. There are enough companies, enough unique styles in the marketplace that no matter what you like, there are papers, fabrics, stickers, stamps, and die-cuts to get your groove on. Regarding products and/or materials that are trending for us: without question, HOT FOIL is really finding its own. Also, this year, thread and sewing with paper is crashing the party of fun, quick, beautiful, and achievable projects. As we get back into a more traditional calendar of shows, product launches and education, we have many new products and technologies that will launch in 2023 as I'm sure most companies will.
Mark Hyland, CEO, Handi Quilters:
We're seeing that customers are value driven and not as price sensitive as they once were. When a consumer sees value in a product and they are engaged with a brand, they will actively seek it out to purchase. For example, let's say your business is focused on the lowest price with free shipping. Your competitor offers fewer products that are always available, has highly engaged activities, but no free shipping. The market is telling us customers are more likely to sacrifice the free shipping in favor of getting all of the products they want from the brand that they enjoy being fully engaged with and being a part of that community. Today's consumer is smart, resourceful, and fluent in navigating the internet to find the products they want. It's important to focus less on just the cost, and more on providing a variety of products and engaging experiences.
We're also seeing increased interest in experiences at all levels of crafting expertise. Remember that the beginner quilter in their 20s may grow up to be a seasoned, devout quilter in their 50s and 60s. That amounts to 40+ years of quilting and sewing; your shop should aim to steward them on that journey. Creating educational and social experiences for crafters at all levels of the crafting journey means you're reaching your potential customers at all stages.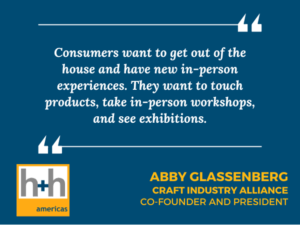 Abby Glassenberg, Co-founder and President, Craft Industry Alliance:
Sustainability is an important trend in the craft industry and one that brands are increasingly committing to as our planet warms and we wake up to the need to produce less waste.
Visible mending continues to be a trend in this area, with an emphasis on slow stitching and sustainability. Examples include adding Sashiko stitching to jeans like Katrina Rodabough or embroidering embellishments to cover stains or holes on knitwear as in Alexandra Stratkotter's new book, The Embroidered Closet. Giving old clothes new life with natural dyes dovetails with this trend as well, and Christi Johnson of Mixed Color has great instructions on this.
Quilted clothes give new life to old or unused handmade quilts and are a great way to show the beauty and utility of quilted fabric. Victoria Findlay Wolfe has a great recorded lecture on the creative process of repurposing a quilt to make a coat. Sandra Johnson brings both of these concepts together with her incredible denim quilts.
Thank you again to our industry experts for providing valuable food for thought as we head into a new year. We're looking forward to the next h+h americas in June 2023, where we hope to provide even more insight into the crafts industry and opportunities to learn from our leaders. Exhibitor registrations are currently open. Don't forget to book travel and accommodations at our special discounted rate!