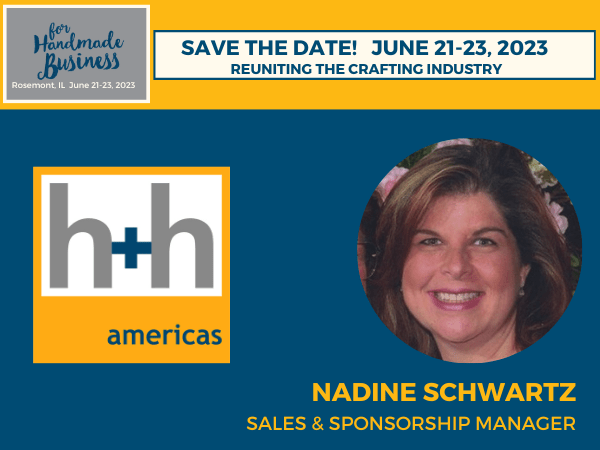 As h+h americas prepares for its second show in 2023, we're excited to announce that our team is expanding and shifting to include representatives from all corners of the crafting world. With our declaration to unite the crafting industry, we recognize the need to share focus across all handicrafts. This year was all about the soft crafts; next year brings the entire creative industry into the family. Accordingly, we've brought in lots of help to create a more inclusive show that is representative of the wider crafting world. 
Today, we'd like to introduce Nadine Schwartz as the newest member of the h+h americas team. Nadine has been a trade show professional for more than 30 years. She counts her work with The Association for Creative Industries, formerly the Craft & Hobby Association, as the most rewarding of her career. h+h americas is excited to welcome her back home. As Sales & Sponsorship Manager, Nadine will work to foster a thriving show reflective of the totality of the crafts industry. Nadine lives in a bustling New York home with her husband, stepdaughters, golden retriever Gigi, and, of course, a crafting room filled to the brim with paper crafts, beads, needlepoint, paintings and more.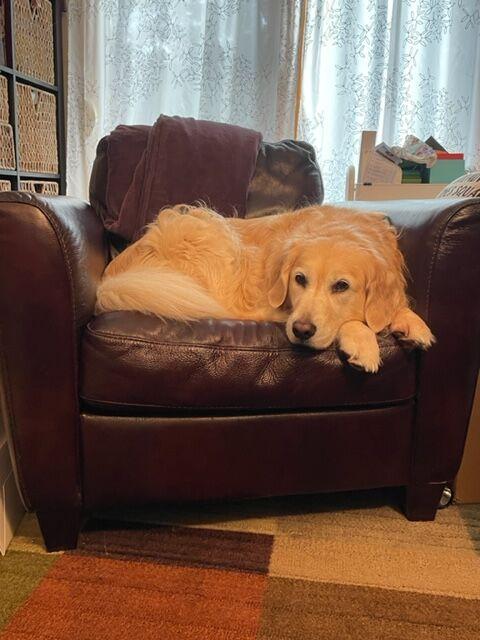 "We're thrilled to have Nadine on board helping to reach out to all sectors of the industry for h+h americas 2023," said Abby Glassenberg, The Craft Industry Alliance. "With Nadine's network and expertise, I'm confident that we can bring everyone together at this year's show for a truly unique and exciting event." 
"The h+h americas Conference Committee has been instrumental in shaping the educational content for h+h americas 2023. Our committee members have expertise in all areas of craft including scrapbooking, sewing, quilting, knitting, crochet, embroidery and beading. They hold a variety of different roles in the industry as well and I'm so grateful for their willingness to help shape a world-class lineup of masterclasses, panel discussions, and keynotes this year," said Abby Glassenberg.
We sat down with Nadine to hear what excites her about the new h+h americas and how the future landscape of h+h americas will best reflect everyone who makes a living through crafts.
What most excites you about the h+h americas trade show in 2023?
I'm excited to be part of the team that brings the industry back together. It's a fun, dynamic community filled with extraordinary products and people that inspire creativity. I also know many of the vendors and artists, so it's personally exciting to see everyone again!
What are your goals for h+h americas?
To create a marketplace for the creative community that provides a platform for sales, engagement, education, collaboration, and the joy of all being together to help the industry thrive.
What do you hope to bring to the table for h+h americas? How does your previous experience with trade shows inform your goals for h+h americas?
Having worked in the trade show industry for so many years, I know that being a partner with your exhibitors and sponsors is a special role. I know how to help set-up an exhibitor for success. 
I know listening to your clients' needs is the best thing you can do to help them be successful. I know being present on the show floor during your event—from set-up to tear-down—shows your client base that you are there for them and are around to answer questions. And calm their nerves. 
I know helping to navigate the necessary forms and documents from your initial space contract to the electrical needs of your booth is less daunting with someone who knows that process and can help. I know that caring about your client base and your event, makes the event—and the experience—better for everyone.
h+h americas aims to unite the craft industry in 2023 and beyond. How do you imagine that collaboration playing out? What can we expect to see from that union?
Having worked on an event that did exactly that—united the craft industry—I think it will be a natural collaboration. And I believe that the buyers for "soft" crafts will find interest in some of the products displayed and demonstrated by exhibitors they may not be familiar with yet—and vice versa. It will be a win-win for everyone. And I'm so excited to see everyone!
Why do you think it's important for h+h americas to unite the hard and soft crafts industries?
I think it's a natural next step for h+h americas—to unite the craft industry right now. After the success of the launch of h+h americas 2022, and knowing products that have a crossover with the hard crafts from scissors, embellishments, fibers, storage, and more, it really was the logical next step for the event and for the creative community. 
The craft industry is creative by its nature. Crafts aren't as siloed from one another as they may appear. When we invest in their union, we are essentially investing in innovation and collaboration. 
We have a great team, and we're going to create an event that will be the must-attend event for the creative industry.
Are you a crafter? 
Yes, I am a crafter. I love making things! I have a wonderfully colorful craft room that is filled with a ridiculous amount of creative products—from scrapbooking to paper craft, rubber stamping, card making, mixed media, beading—and my sweet golden retriever Gigi. It's like walking into OZ. And it's a perfect reflection of me—it's a bit cluttered and has bits and pieces of my life that make my heart happy. 
I have beautiful needlepoint works that my mother made, a few paintings made for me by friends that I treasure, projects I've made that are like a talisman to special moments, and lots of photographs and trinkets.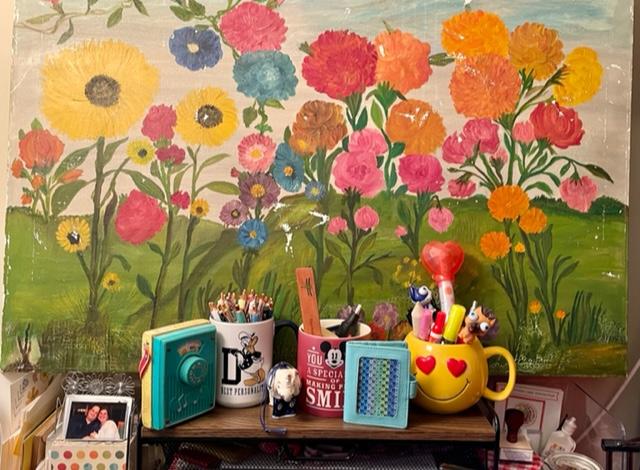 But my favorite thing is one particular shelf. It's what I see when I walk into the room. It sits just beyond my laptop, so it's always in sight—a beautiful floral painting my great grandma Mollie painted (who took up painting when she was in her 70's), a music box from my childhood, a needlepoint wallet my mom made, some silly mugs to hold a ridiculously large collection of pens I have, an old-school rubber stamp over on the right, an elephant for luck & way over on the left is the first picture of me & my husband when we were first dating.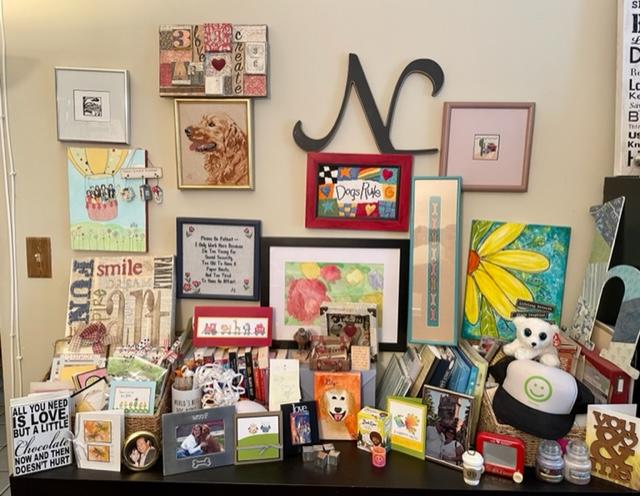 Thank you, Nadine, for sitting down with us and sharing your vision for h+h americas 2023! We're so excited to get started and the new year can't come soon enough. Exhibitor registrations are open and the hotel blocks have also just been released. Register to become an exhibitor and book a room today!