Inspired Mary Sanderson from Hocus Pocus
Silkenstitches (Anne Marie)
C2E2 2022 – Alexandra Lee Studios ©
I work as a theater costume technician at the Paramount Theater in Aurora IL. Not only do I cosplay, but I also do some historically inspired sewing, make some of my own hobbity/witchy inspired wardrobe, and I have recently picked up crocheting. Basically, sewing and creating is my entire being, I just switch fonts at a moments notice. I love many fandoms, I am making all the time at a snails pace, and there is inevitably cat hair in all of my handiwork.
Makers name: Anne Marie Hauge
Late 18th Century inspired Mary Sanderson. She was build in tandem with PaisleyandGlue and CaseyReneeCosplay to complete the trio of Sanderson sisters. The original Mary Sanderson's iconic hair was inspired by the top of a pumpkin, so this interpretation includes motifs of sprawling roots and organic curves. The costume includes over 80 hours of embroidery, handmade jewelry and hand dyed vintage lace. The wig has been shaped and styled over a custom build cage and a thermoplastic appendage.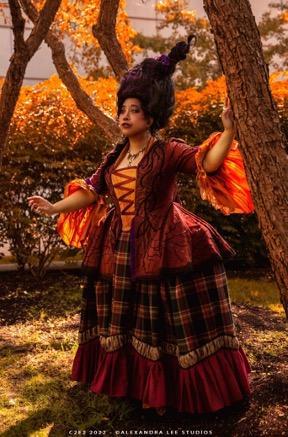 KATSUCON 2022 – Alexandra Lee Studios ©