h+h americas posted fantastic numbers for our sophomore show this year—and it isn't over yet! Before we get into a breakdown of attendance, exhibitors, and 2023 offerings, we want to remind our attendees and exhibitors that the show continues all this week with our Digital Aftershow. Check out this week's events below and remember to log in to access this extended content. 
June 26th at 11 am CST LIVE:

Aftershow Review Kick off with Abby Glassenberg & Darrin Stern

June 27th at 11 am CST

–

REPLAY:

7 Hot Crafting Trends in 2023 with Stitchcraft Marketing

June 28th at 11 am LIVE:

Exhibitor Q & A – How to download my leads

June 28th at 1 pm CST

–

REPLAY:

Using Social Media to sell products and services both locally and online.

June 29th at 11 am CST LIVE:

10 Top Trends You May Have Missed at h+h americas 2023 with Prime Media

June 29th at 1 pm am CST

–

REPLAY:

5 E's to Easy Everyday Marketing

June 29th at 3:30 pm CST

–

REPLAY:

How to Create a Great Customer Experience
Digital Aftershow content will be available to view on h+h connect after airing, so you can access the above later. However, we encourage our h+h americas family to log on for the live events to participate in our collaborative sessions and discussions and engage in Q&A. The Digital Aftershow extends access to video-based meetings, instant messaging, and all pre-recorded educational sessions.
h+h americas sets new records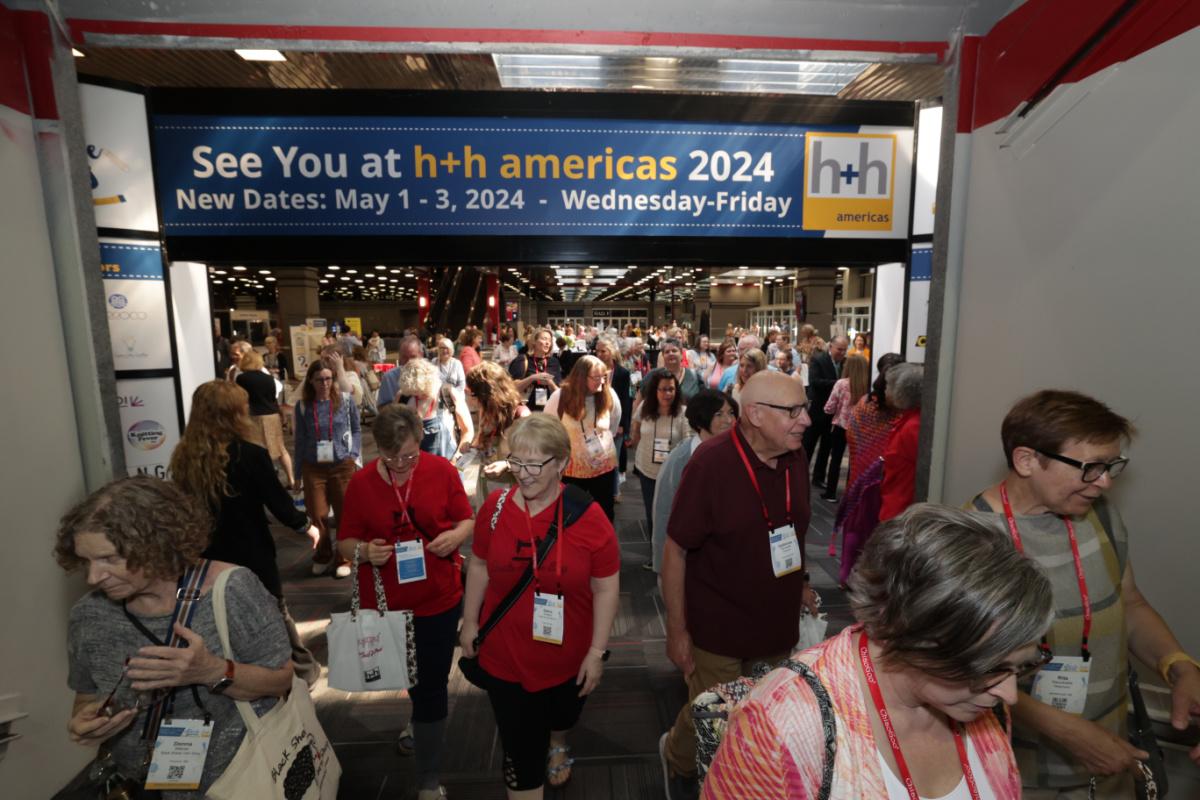 This year's show set new records for h+h americas. We're confident that we accomplished our goal of uniting the soft craft industry and fostering a diverse, inclusive space for creative cross-pollination and collaboration.
h+h americas 2023 hosted a record-breaking 267 exhibitors and 2,535 attendees from more than 22 countries around the world at the Donald E. Stephens Convention Center in Rosemont, IL. The sold-out show saw an exhibitor increase of 34% over last year's show, solidifying h+h americas' position as the premier trade show for the craft industry.
"We are grateful and humbled by the fast-building momentum and strong support for our show. It seems that our event has really closed the gap for a much needed and relevant handicraft tradeshow for the North American B2B community. Many domestic attendees really appreciated the increased number of quilting and fabric lines as well as the ability to touch and feel international products normally not seen in the U.S." – Mette Petersen, President and Managing Director of Koelnmesse Inc.
With more than 35 conference sessions covering topics including email and social media marketing, content strategy, product photography, employee retention and leadership skills, retail and business strategies, craft trends, cash flow systems and more, h+h americas offered exhibitors and attendees a wide spectrum of learning opportunities. 
"This was our second consecutive year as a strategic partner and conference organizer for this fantastic event," said Craft Industry Alliance President Abby Glassenberg. "Our program included Keynote Speeches, Masterclasses, Conference Sessions as well as Meetup Groups. We already received great feedback that will lead to new ideas and inspiration for next year's program. We value our partnership with Koelnmesse and the h+h team and look forward to seeing everyone in Rosemont next May!"
Highlights from h+h americas 2023
Watch highlights from Day 1 of h+h americas 2023 above. We're also sharing some fabulous images and videos from the attendees and visitors themselves to give you a feel for the excitement on the floor of the Donald E. Stephens Convention Center.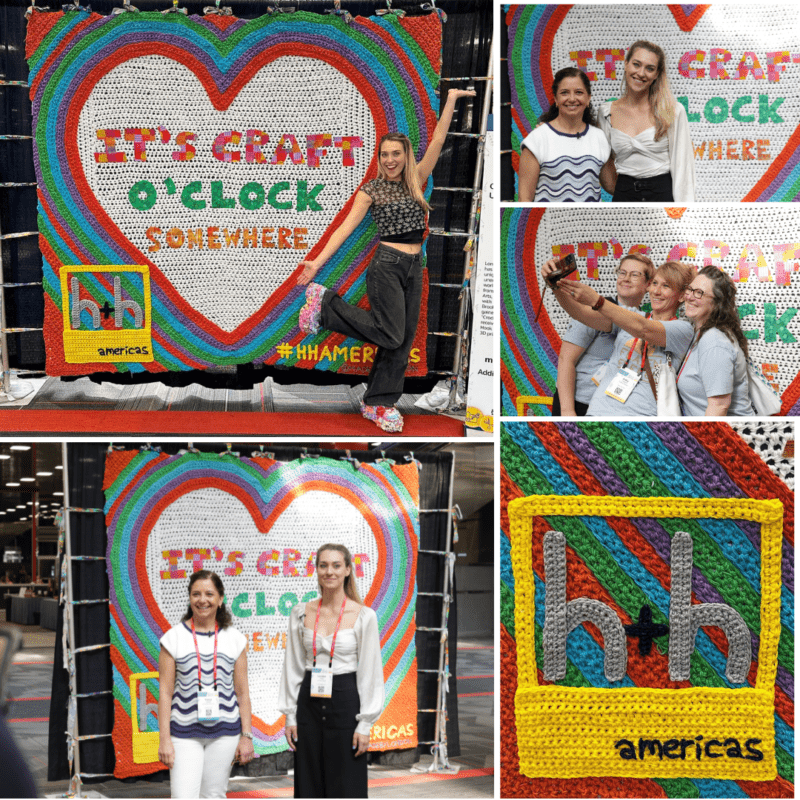 The "It's Craft O'Clock Somewhere" welcome space crocheted by London Kaye using yarns from Universal Fibers and embellished with fabrics from Free Spirit Fabrics was the place to be to snap an Instagram-worthy picture.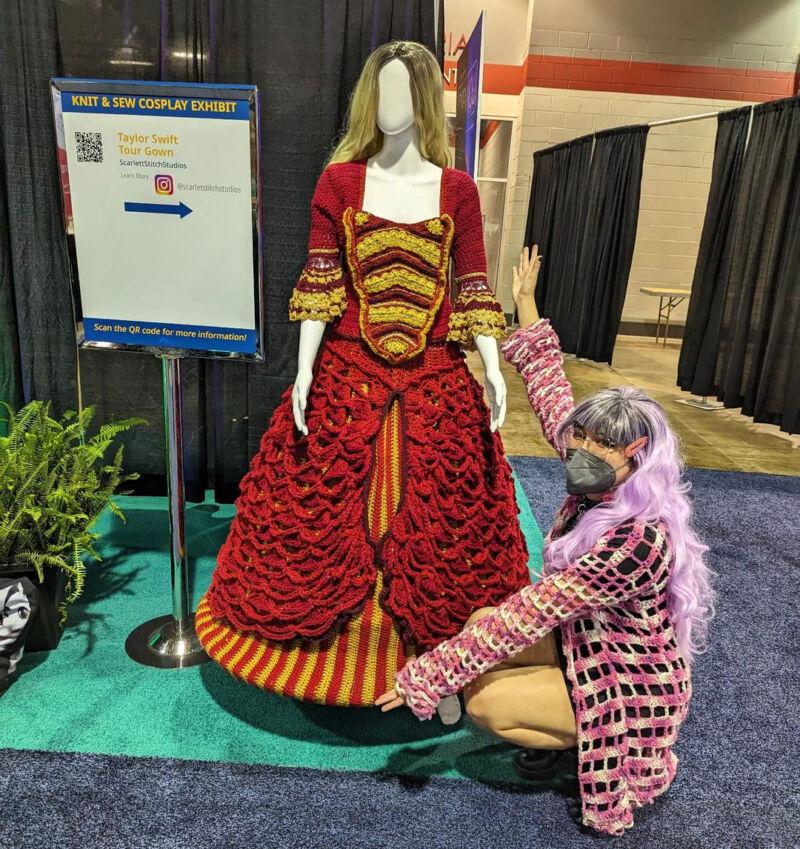 @scarletstitchstudios with her incredible Taylor Swift-inspired Tour Gown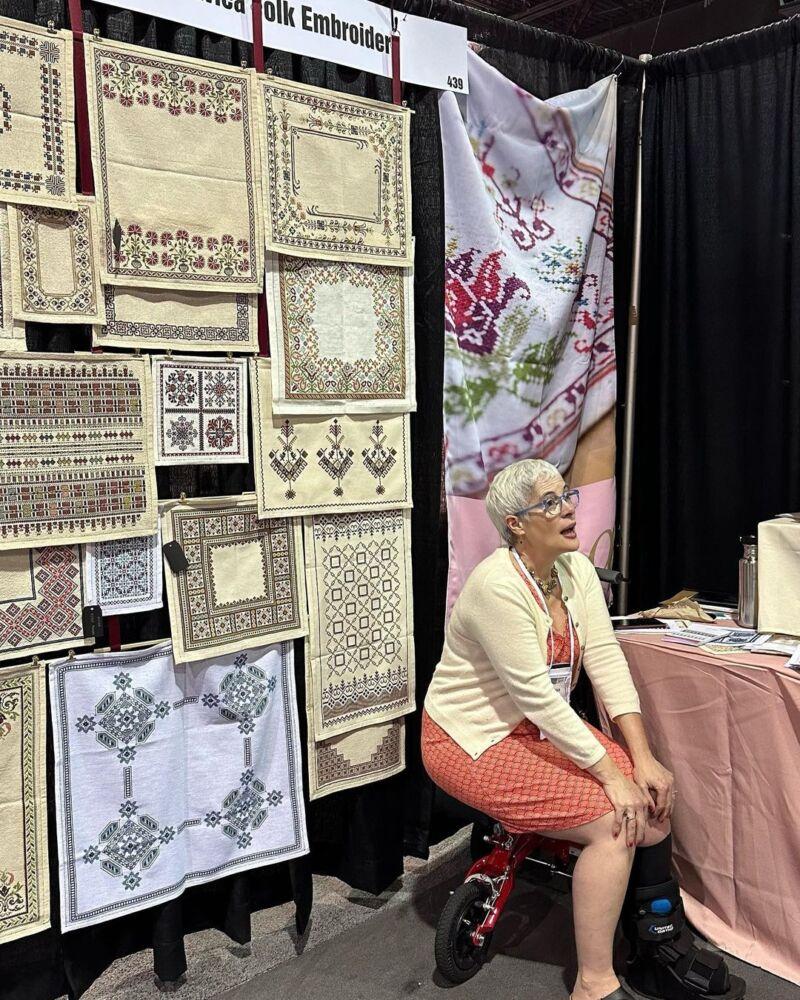 Beautiful folk embroidery from @kristmwest, photo courtesy of @taylorsevilleoriginals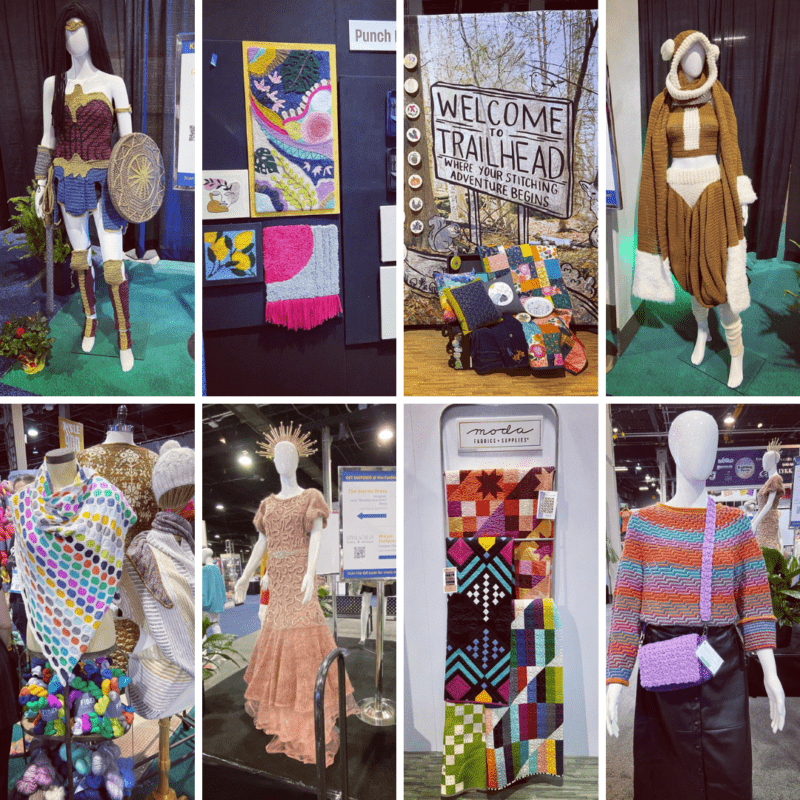 "Eye candy" captured and shared by @knotintoit 
Global Artisans broadcast an episode of their show, A World of Handcraft, live from our new Creator Studio. They said "the quality and the surroundings were a definite upgrade."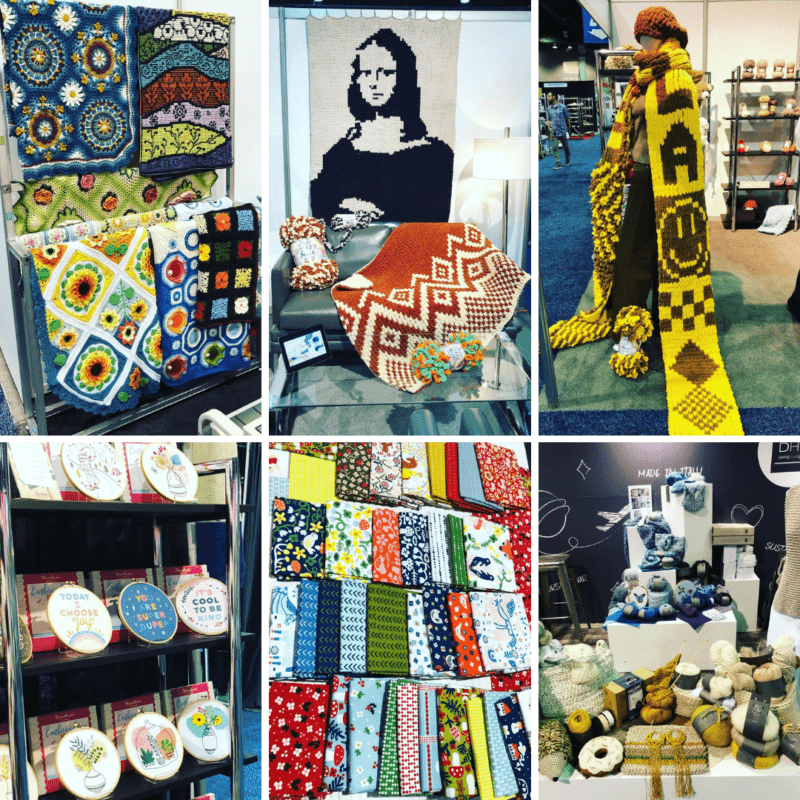 Vendor captures from @isleofelba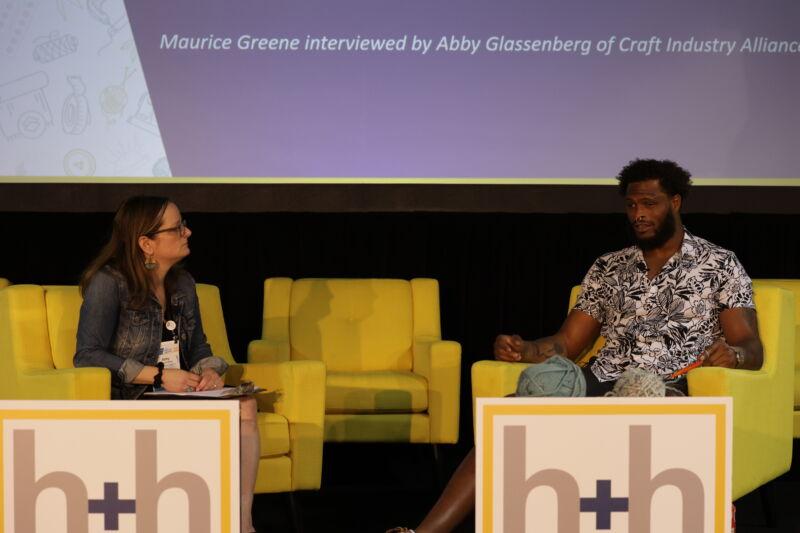 Abby Glassenberg of Craft Industry Alliance interviewed mixed martial artist Maurice Greene, AKA The Crochet Boss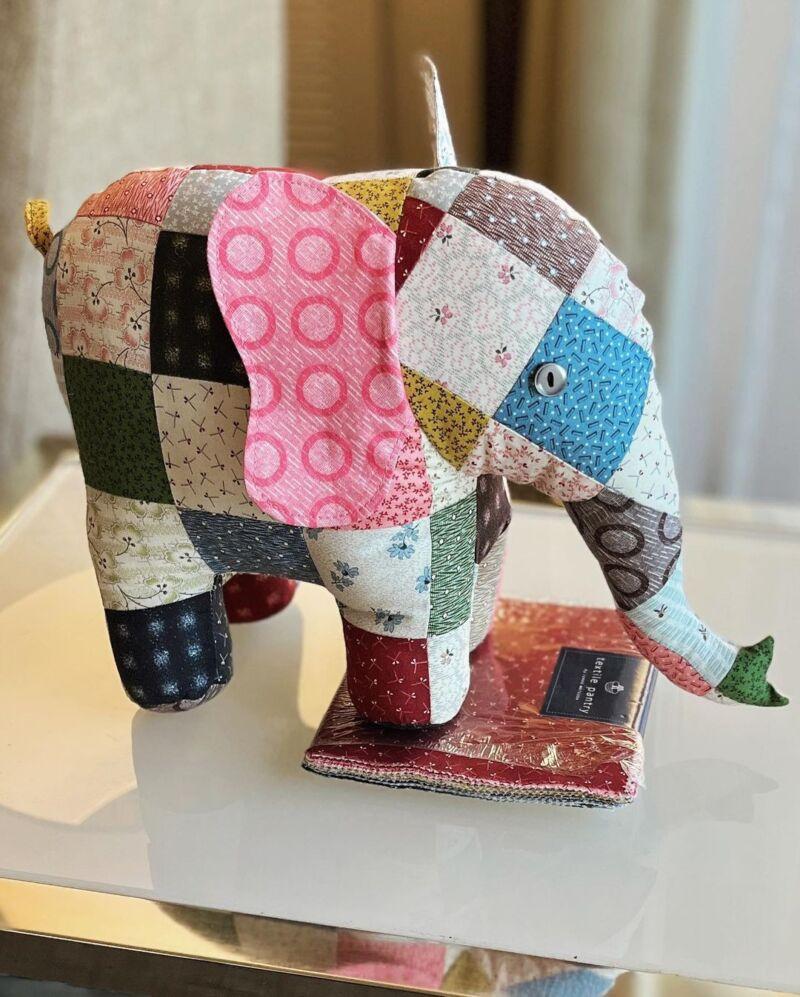 Quilted elephant from @orimono_imports
The following are some highlights from Day 2 of the show:
Overall, h+h americas 2023 was a smashing success! You can read more coverage of the show from Craft Industry Alliance here. The success of this year's show is already drumming up excitement for next year's show in May. 
h+h americas 2024 will be once again be held at the Donald E. Stephens Convention Center in Rosemont, IL, from May 1-May 3. The earlier show date enables North American retailers to view international product introductions in Chicago just 5 weeks after the March event in Cologne.
"With the early May date, we can bring our team together at h+h americas, unveil our new line, and invite our retailers to witness it firsthand. This move allows us to transform h+h americas into a show where we optimize our time with customers at the very start of the new season launch. It's a fantastic opportunity for our sales representatives."  – Jan Hurwitz, Vice President at Premier Needle Arts and General Manager of Berroco.
To stay on top of all of our updates, sign up for the h+h americas newsletter below.