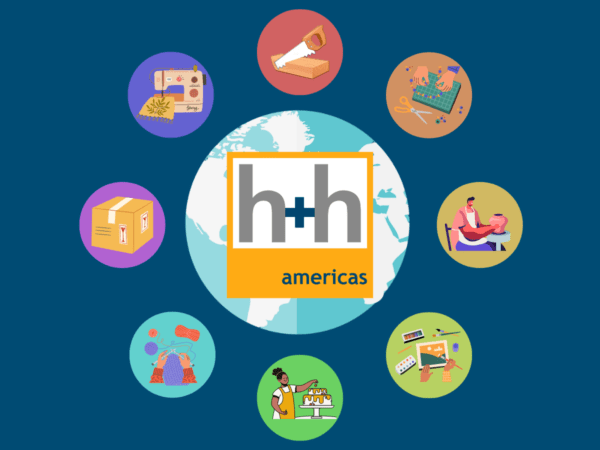 If you've been following our channels, you know that h+h americas is expanding in 2023. Once billed as a show highlighting the soft crafts industry, from 2023 onward h+h americas will spotlight everyone in the crafting space. 
What does that mean? For a very quick refresher, you can check out our Future of h+h americas blog post, which covers some of the new categories covered under the "all crafts" umbrella. Attendees and exhibitors can expect to see new crafts like resin and clay, cake decorating, woodwork, paper crafts, candy making, home decor, ecommerce platforms, shipping solutions, and more. We're working on building the full list of categories to release to the public soon. Follow us on Facebook, Instagram, and LinkedIn to be the first to know.
But the new h+h americas is about so much more than just the expansion into representing all corners of the crafting world.
The new h+h americas is the only event open to everyone who makes a living in crafting, whether you're a retailer, a wholesaler, an influencer, a designer, an educator, a content creator, a small business owner, an Etsy store, or an ecommerce business. By expanding our categories and coverage, we're building a truly inclusive event. h+h americas is now the only professional B2B platform uniting and speaking to the hard and soft crafts industries. In a crucible with so many wonderful, varied components, real magic is bound to occur.
We're also the only show in the craft arena to maintain affordable entry. Rather than create a gated event that limits the community to those who can pay what are often exorbitantly-priced membership fees, h+h americas only requires a booth fee for exhibitors and entrance fee for attendees. Without the imposition of membership, our community can expand to include the very small business owners and crafters who enrich the crafting community, but can't afford steep membership dues.
It's difficult to overstate the importance and rarity of this particular facet of h+h americas. The same craft businesses that find it difficult to afford membership fees are those that offer unique, niche experiences and products that can't be found anywhere else. h+h americas 2023 will once again highlight some of our smaller business owners in spaces like the Indie Untangled Pavilion, as well as the Cooperative Press Indie Craft Book Pavilion. In this day and age, inclusivity must also address the lack of accessibility that arises from class inequities. When we refuse to institute a membership fee, we move closer to true inclusivity and serve as a positive force in the crafting community.
We're working hard to build the h+h americas community from the ground up to offer a singular trade fair event that unites the large and ever-expanding crafting community. We've also added an additional day to the 2023 program to ensure all of our attendees and exhibitors have ample time to get the most out of the show. 
There are so many benefits to being an exhibitor at the new h+h americas. As an exhibitor, you join a strong, interconnected, and unified community representing businesses from all around the world. Learn more about the benefits of being an exhibitor here. 
We hope you'll join us and the rest of the crafting universe at the Donald E. Stephens Center next year. Learn more about everything you can expect in 2023 here, and mark your calendars to be in Rosemont, IL, from June 21-23, 2023!
To be the first to receive updates, sign up for our newsletter.