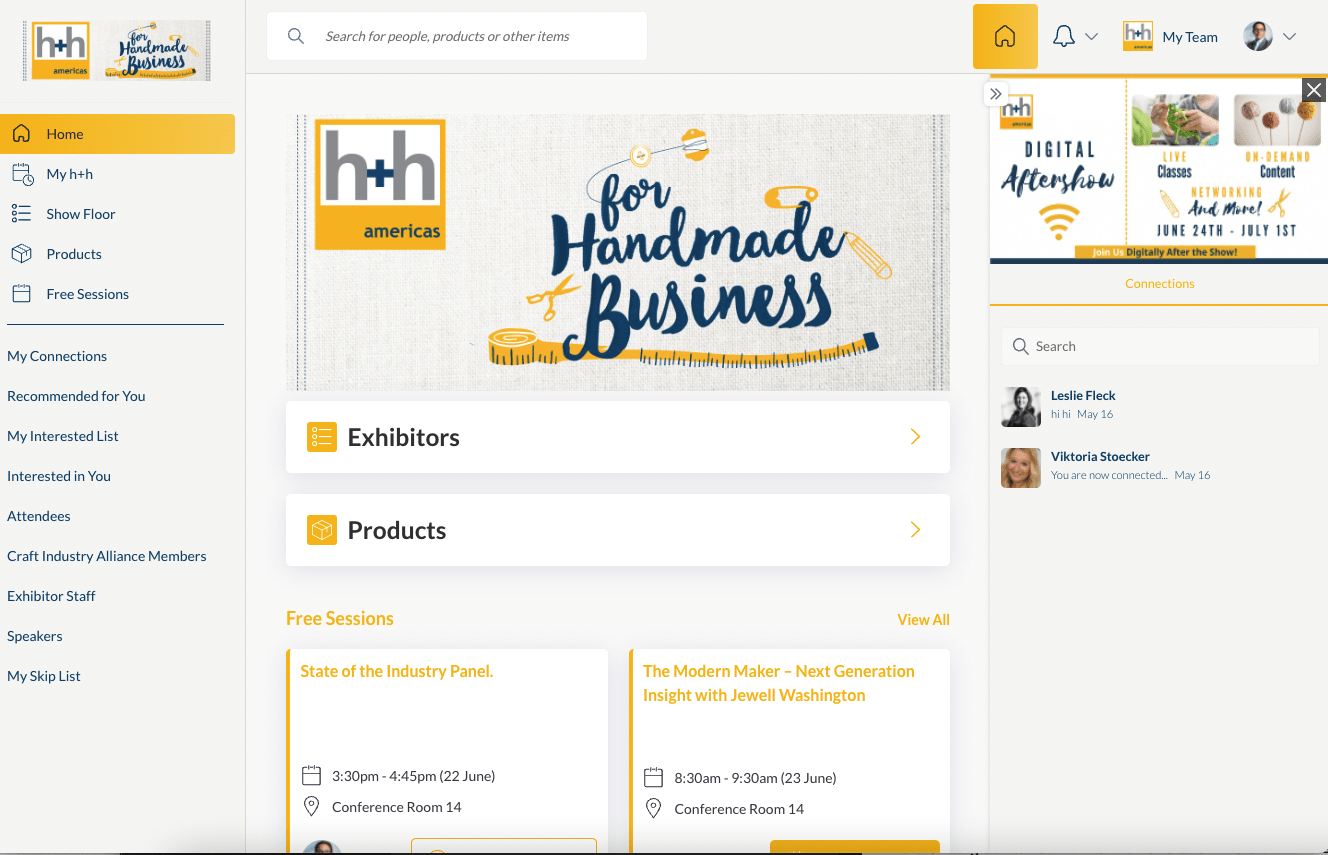 h+h america's digital platform h+h connect is now live! We encourage all of our exhibitors and attendees to take advantage of h+h connect's growing selection of features to streamline their show experience. Now is a great time to ensure you're set up and ready to hit the ground running as soon as the show starts on June 21!
The first thing to do is download the app and fill out your profile information. This will make it easier to locate you, and for your profile to be recognizable as you reach out to others in the crafting community. Exhibitors can update their profiles, create product lists, and begin to schedule meetings with potential customers. Exhibitors can also list their staff in their profile to make it easier for clients to connect with them at the show. 
h+h connect is a digital hub for h+h americas that will be available year round. We will continue to update it with new content throughout the year and maintain operations to ensure connectivity within the crafting community. Consider it a year-long resource and a valuable addition to the h+h americas conference experience. We want h+h connect to become a growing, thriving online community for the crafting industry.
Here are a few key features to anticipate as you build out your h+h connect profile:
h+h connect will offer two accessibility levels: a free platform and a paid platform.
Anyone who purchases a ticket to h+h americas 2023 automatically receives access to the paid platform.
On demand content from h+h americas 2022, including keynote and main stage sessions, will be available on both levels of the platform beginning in May 2023. 
On demand content from h+h americas 2023, including keynote and main stage sessions, will be available only on the paid platform. 
h+h connect profiles can be searched by a variety of key search terms such as title, craft focus, product, interest, etc, enabling users to pinpoint one another easily and efficiently.
Messaging between profiles will be available on both the free and paid platform.
Each month, the platform will feature a different program to enhance the h+h americas experience. This might be a tutorial on platform use, a product demonstration from an exhibitor, a retailer interview, or other value-added experience. 
The h+h americas Digital After Show will take place exclusively on h+h connect. 
Learn more about h+h connect here!
Completing your h+h connect profile and exploring the platform is just one way to prepare for the show in June. We've also included a Preparation Checklist for our attendees and exhibitors. Get a head start by downloading our comprehensive checklist today!