We're so excited for May 1-3, 2024, and celebrating our third anniversary with you, our amazing community! h+h americas is more than just a trade show, it's a place where we can all connect, learn and grow together. Whether you're a crafter, a designer, a retailer or a supplier, you're welcome here. You're part of the h+h americas family!
Who are we?
We are:
Indie yarn dyers

Quilt pattern designers

Entrepreneurs

Textile designers

Fabric makers

Brick & mortar craft retailers

Manufacturers

Suppliers

e-Commerce retailers

Embroidery designers

Craft charity organizations

Distributors

Notions designers

Cross stitch designers

Educators

Content creators

Influencers
h+h americas exists at the crossroads of crafting. We are the premier trade show event for everyone who makes a living in the crafting sphere, from the small scale, boutique indie designer to the large scale textile manufacturer.
h+h americas is still in its infancy, and we plan to grow larger and more inclusive as we evolve. But now is the time to get in on the ground floor and stake your place at h+h americas. Our show covers all sectors of the crafting industry, and that includes you.
How can we get involved?
We want to help everyone in the crafting industry achieve their goals. But to ensure that all voices are represented, we need to hear from as many people as possible. This event is curated for the craft space and our aim is to create a show that reflects everyone's interests.
One great, instant way to get involved is to spread the word. Did you attend h+h americas 2022 or h+h americas 2023? Post your pictures, film a review, and share your experiences with others in the crafting community. Word of mouth is still one of the best ways for us to get out in front of new eyes, and your experiences at our previous shows helps inform future exhibitors about what they can expect. 
You can also volunteer to be on our Advisory Board. h+h americas 2024 is currently in the planning phase and we're looking for volunteers to serve on our Advisory Board in the areas of Diversity and Accessibility, Networking and Social Opportunities, and Marketing. 
Learn more about the Advisory Board and volunteer here. 
What can we do right now?
It's never too early to start planning for h+h americas 2024! The show falls a bit earlier this year, running from May 1-3, 2024, so we've bumped up our timing on certain things.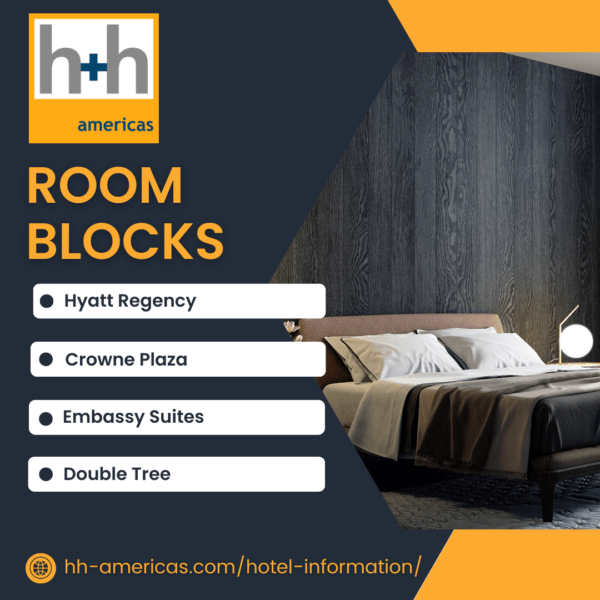 For example, hotel room blocks are currently open! Don't wait to secure your room for h+h americas 2024. Rooms tend to fill quickly, so book your room now.
We're also encouraging exhibitors to book their spot on the showroom floor as early as possible. Fill out an exhibitor application today and learn more about the benefits of exhibiting at h+h americas here. Potential exhibitors can also strategize early by browsing h+h americas' Product Categories, determining costs with our Booth Calculator, and explore special exhibit options like the Indie Untangled Newcomer Pavilion, the Independent Book Pavilion, and the Sewing & Quilt Pavilion.
We also encourage all past, future, or potential exhibitors and attendees to sign up for the h+h americas digital platform, h+h connect. h+h connect is totally free to all users, regardless of whether you've attended h+h americas in the past, and contains a wealth of free, on-demand content from previous shows, an evolving index of craft industry users, and lots of new features to help forge new connections in the community.