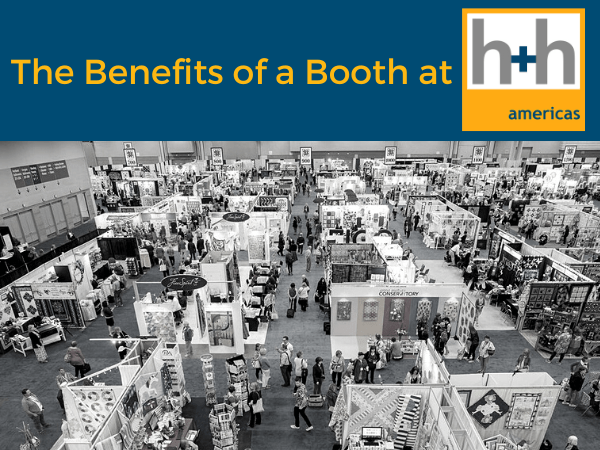 We've discussed all the incredible benefits of attending h+h americas. From gaining access to everyone who makes a living in crafting to the impressive global reach h+h americas provides to the long, practiced history of successful craft industry events koelnmesse enjoys, there are plenty of fantastic reasons to join the h+h americas family.
Today, we'd like to outline some of the benefits of joining h+h americas 2023 with a booth for your business. The show floor for 2023 has expanded to include the whole world of crafting, which includes papercrafts, stamping, inks, paint, beading, clay and more alongside the soft crafts industry. But as you review our booth application process, you may wonder exactly what you're signing up for, and all the inherent benefits included.
No Membership Fees Required
Unlike other craft industry trade shows, h+h americas doesn't require a membership fee to host a booth or attend our show. This means everyone who makes a living in crafting is welcome to come to the show to grow their business, learn more about how their business can improve, and link up with other businesses to innovate their offerings.
Inclusive Booth Costs
Many of the additional costs associated with buying a booth at other trade shows are already included in the price of a booth at h+h americas. Necessary items like the carpet, drapes, and rods are inclusive in h+h americas' booth costs. h+h americas also does not charge a corner fee. Wifi is also included within our pricing structure, and businesses and individuals can also share booth space to further reduce their expenditures. Learn more about our booth packages here.
Marketing Benefits
When you become an exhibitor at h+h americas, you receive free marketing features as part of your booth package. In addition to an exhibit listing in the directory, exhibitors also receive the opportunity for a free listing in our direct-to-consumer post show look book, free advertising materials to use online and in your business promotions of the event, and so much more. See all the marketing benefits here.
Craft Industry Alliance + h+h cologne Discounts
Are you a member of the Craft Industry Alliance? Did you exhibit at h+h cologne? CIA members, h+h cologne exhibitors, and other association members receive discounted pricing on a booth at h+h americas to help further offset the cost of a booth.
Free Lead Retrieval
h+h americas exhibitors receive free lead retrieval services as an added benefit of attendance. We provide business badges outfitted with QR codes so exhibitors can easily scan badges to exchange information and follow up on leads and contacts made at the show.
Summer Date
h+h americas takes place during the summer season, which gives businesses plenty of time to prepare for their holiday season and holiday sales. There's no better time to strategize new product offerings, forge new businesses connections, and get ahead of trends in time for the holidays.
Unlimited Free Ticket Codes
Each exhibitor receives an unlimited number of ticket codes to pass along to their customer base for free attendance at the show. Building up the h+h americas attendee pool with interested, passionate craft industry members enriches the show overall, extends your business's potential reach, and increases your exposure.
Permanent Digital Platform
With h+h americas 2023, we're introducing a new digital platform that will be available to exhibitors all year long. Instead of scrambling to download all of your contacts and retrieve all of the information you worked hard to gather during the show, now that information will be available and accessible throughout the year. This new networking platform will operate in a similar fashion as other social networking platforms, except it will solely focus and concentrate on the crafts industry as a whole.
Holistic Gathering of the Crafts Industry
h+h americas 2023 is unprecedented for the crafts industry. When you purchase a booth for the show, you're joining an international community of businesses from all corners of the crafting world, from yarn to paper to wood to digital products and more. The opportunity for cross-pollination and innovation, and introducing new ideas and products across different facets of crafting, is truly unparalleled. There is no other show like it.
Global Reach
Unlike other trade shows, h+h americas is a global community event. Alongside h+h cologne, h+h americas draws in businesses to North America from communities all around the world. We have a global team working to bring in international buyers—we want to help you extend your reach to national and international audiences. At h+h americas, small and large businesses can reach overseas distributors and make contacts to access a global network of customers. Because of its reach and accessibility regardless of business size, h+h americas creates a level playing field for everyone in the crafting industry.
Not Just a Trade Show
h+h americas is not just a tradeshow. Our show offers the opportunity to network among wholesale businesses, independent designers, up-and-coming entrepreneurs, influencers and longstanding titans of the crafts industry. When you attend h+h americas, you are connecting with buyers who are making purchasing decisions at the show. And with the inclusion of influencers, there are so many opportunities to amplify your message online and across social media.
Networking Opportunities
From happy hour gatherings to free content programming for exhibitors, attendees, influencers, and suppliers, to the ability to book private meeting rooms, there are ample opportunities to network and develop new relationships at h+h americas.
Centrally Located, with Travel + Accommodation Discounts
The h+h americas show is centrally located in Rosemont, IL, at the Donald E. Stephens Convention Center, just five minutes to Chicago-O'Hare International Airport and dozens of hotels, restaurants and local businesses. We're also steps away from Rosemont's Parkway Bank Park (where we held our Knit the Rainbow event last year), which makes it very easy to network and entertain new business contacts.
In addition, h+h americas offers a travel discount through United Airlines and discounted accommodations at a selection of Rosemont's finest hotels. Learn more about our travel discounts here.
Various Exhibitor Options for Both Small and Large Businesses
h+h americas is committed to representing the entirety of the crafting industry. That means making space not just for the larger businesses that dominate our field, but also the smaller, independent up-and-coming businesses that are just finding their footing.
Check out our different pavilions to discover the space that's right for your business. From the Indie Untangled Newcomers Pavilion to the Cooperative Press Indie Book Pavilion to the Sewing & Quilt Pavilion and the LAUNCHPAD Newcomer Pavilion, we're always looking for ways to create an inclusive, accessible event for all business levels.
We hope the many benefits of exhibiting at h+h americas have helped solidify your decision to attend and exhibit at the premier trade show for the crafting industry. We can't wait to see you at h+h americas June 21-23, 2023. Apply today to be an exhibitor and reap the benefits of joining our global craft community!